Pigment yellow 65- Corimax Yellow RN
Technical parameters of Pigment yellow 65
| | |
| --- | --- |
| Color Index No. | Pigment yellow 65 |
| Product name | Corimax Yellow RN |
| Product category | Organic Pigment |
| CAS Number | 6528-34-3 |
| EU Number | 229-419-9 |
| Chemical Family | Monazo |
| Molecular Weight | 386.36 |
| Molecular Formula | C18H18N4O6 |
| P.H. Value | 6.0-7.0 |
| Density | 1.6 |
| Oil Absorption(ml/100g)% | 35-45 |
| Light Fastness(coating) | 7 |
| Heat Resistance(coating) | 140 |
| Water Resistance | 5 |
| Oil Resistance | 3 |
| Acid Resistance | 5 |
| Alkali Resistance | 5 |
| Color | |
| Hue distribution | |
Features: Good dispersion.
Application:
Recommended for architectural coatings, industrial coatings.
TDS(Pigment yellow 65)
MSDS(Pigment yellow 65)
Related Information
Molecular Structure: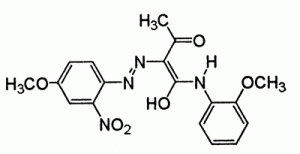 Molecular Formula:C18H18N4O6
Molecular Weight: 386.36
CAS Registry Number:6528-34-3
Manufacturing Methods : 4-Methoxy-2-nitrobenzenamine diazotization, and N-(2-methoxyphenyl)-3-oxobutanamide coupling.
Properties and Applications:brilliant red light yellow. Red powder. Sunlight fastness is better. Resistance to Cellosole, kerosene, is not able to bear or endure xylene, acid-proof alkaline better. In oily medium, especially in latex coating in use, also can be used for coating, rubber, cultural and educational supplies coloring.