Pigment violet 19-Corimax Violet E5B02
Technical parameters of Pigment violet 19
| | |
| --- | --- |
| Color Index No. | Pigment violet 19 |
| Product name | Corimax Violet E5B02 |
| Product category | Organic Pigment |
| Light Fastness(coating) | 7-8 |
| Heat Resistance(coating) | 200 |
| Light Fastness(plastic) | 7-8 |
| Heat Resistance(plastic) | 280 |
| Color | |
| Hue distribution | |
Application:
Recommended for automotive paint, architectural paint, industrial paint, powder paint, printing paste, PVC, rubber, PS, PP, PE, PU, offset ink, water-based ink, solvent ink, UV ink.
Can be applied to coil coatings.
TDS(Pigment violet 19)
MSDS(Pigment violet 19)
—————————————————————————————————————————————————————————————————
Related Information
There are 128 kinds of commercial formulation brands of the pigment. β - quinacridone gives red light and purple, similar to p.r.88, with excellent light resistance and heat stability; it is used in high-grade industrial coatings, color matching with inorganic pigments such as iron oxide red and molybdenum red, transparent type can be used in metal decorative paint; it can also be used in plastics such as PVC and Pur, and can withstand 300 ℃ in polyolefin. The light fastness of γ - type is slightly lower than that of β - type, but it has higher transparency; the light fastness of γ - type with coarse particle size is excellent, which is suitable for outdoor paint coloring; it can be used for high-grade metal decorative printing ink, matching with p.r.122, which is close to the standard red tone, the light fastness of printing sample is 6-7, and the heat resistance is 190 ℃ / 10min, which is used for laminating plastic film and PP original pulp coloring, etc.
Physical and chemical properties:
Solubility: Hue or light: purple, yellow light, red
Relative density: 1.5-1.8
Bulk density / (lb / gal): 12.6-14.8
Melting point / ℃: 310-> 400
Average particle size / μm: 0.05-0.1
Particle shape: purple / cubic
Specific surface area / (m2 / g): 22-85 pH value / (10% slurry): 6.5-9 Oil absorption / (g / 100g): 40-70
Covering power: transparent type
Synthesis: Commonly used synthetic technology is diethyl succinate, which is reacted in sodium ethoxide medium to produce hydroquinone hydroquinone-2,5-dicarboxylic acid ethyl ester, or hydroquinone-2 DMSS, Dimethyl succinylosuccinate; and then condensation reaction with aniline, after ring closure and oxidation reaction; crude quinacridone was prepared, and pigmentation treatments such as solvent and grinding were used to obtain different Crystal form β- or γ-type pigment violet 19.
aliases:
C.I. 46500; C.I. Pigment Violet 19; Cinquasia red; QUINACRIDONE RED; QUINACRIDONE VIOLET; CI 73900; Linear quinacridone; CI Pigment Red 122; Cinquasia B-RT 796D; Cinquasia Red B; Cinquasia Red Y; Cinquasia Red Y-RT 759D; Cinquasia Violet; Cinquasia Violet R; Cinquasia Violet R-RT 791D; Dark violet; E 3B Red; Fastogen Super Red BN; Fastogen Super Red YE; HSDB 6136; Hostaperm Red E 3B; Hostaperm Red E 5B; Hostaperm Red Violet ER; Hostaperm Red Violet ER 02; Hostapern Red Violet ER; Linear trans quinacridone; Monastral Red; Monastral Red B; Monastral Red Y; Monastral Violet 4R; Monastral Violet R; Monastrol Red Y; NSC 316165; PV Fast Red E 3B; PV Fast Red E 5B; PV-Fast Red E3B; PV-Fast Red E5B; Paliogen Red BG; Permanent Magenta; Permanent Red E 3B; Permanent Red E 5B; Pigment Pink Quinacridone S; Pigment Quinacridone Red; Pigment Violet #19; Pigment Violet Quinacridone; Quinacridone; Quinacridone Red MC; Quinacridone Violet MC; Red E 3B; Sunfast Red 19; Sunfast Violet; Quino(2,3-b)acridine-7,14-dione, 5,12-dihydro-; Pigment Violet 19; Pigment Violet 19 γ; Pigment Violet 19 β.
Molecular Structure: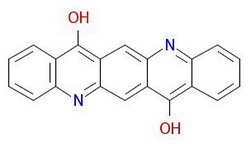 ---