Pigment yellow 168-Corimax Yellow WGP
Product parameter list
| | |
| --- | --- |
| Color Index No. | Pigment yellow 168 |
| Product name | Corimax Yellow WGP |
| Product category | Organic Pigment |
| Light Fastness(plastic) | 7-8 |
| Light Fastness(plastic) | 260 |
| Color | |
| Hue distribution | |
Features: good migration resistance.
Application:
Recommended for powder coatings, PVC, rubber, PS, PP, PE.
Can be applied to PU.
TDS( Pigment yellow 168)
MSDS(Pigment yellow 168)
—————————————————————————————————————————————————————————————————
Related Information
Molecular Structure: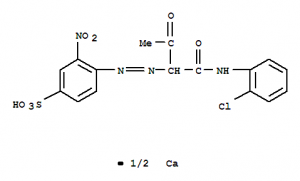 Chinese Name: pigment yellow 168
English Name: segment yellow 168
Chinese alias: C.I. Pigment orange 71; ilgajing DPP orange; pigment orange 73; bis - (p-tert-butylphenyl) - 1,4-diketopyrrole and pyrrole
- [(E) - 2 - [1 - [[(2-chlorophenyl) amino] carbonyl] - 2-oxopropyl] diazenyl] - 3-nitro -, calcium salt (1:1)
CAS No.: 71832-85-4
Molecular formula: c16h12cacln4o7s
Molecular weight: 479.8845
Main uses:
The pigment is a calcium salt lake with similar structure to C.I. Pigment Yellow 61 and pigment yellow 62. It has a slightly green light yellow color, between C.I. Pigment Yellow 1 and pigment yellow 3. It has excellent solvent resistance and migration resistance to aliphatic hydrocarbon and aromatic hydrocarbon. It is mainly used for coloring of paint and plastic. It has good migration resistance in plastic PVC, with a slightly lower color strength and a light fastness of grade 6. The size occurs in HDPE Deformation phenomenon, mainly recommended for LDPE coloring. It is another non transparent orange DPP pigment sold by Ciba fine company of Switzerland in recent years. It is suitable for high-grade industrial coatings, such as automobile paint (OEM), solvent based color baking enamel, powder paint and coil paint, but its solvent resistance, light resistance and climate fastness are not as good as C.I. Pigment red of the same type.